Article also available in Italian and in French
To start our seek of a suit fair price, the first question that we have to ask to ourselves is "is it a good quality product?".  This question could seem an easy one, cause everyone thinks to be able to understand a quality product by its appearance; but trust me, it doesn't happen often when we talk about suits.
To understand if what you are looking is a quality suit, there are two main factors to consider: the fabric and the conception (or how it has been canvased).
Today we'll focus on the crucial element of any garment: the fabric.
The choice of the right fabric is a non negligible step cause this fundamental element represents the essence of your suit. Indeed,  in a tailor or in a RTW (ready to wear) shop the fabric's colours and patterns will be first things attiring your eye.
However, be careful cause a nice colour won't be enough to have a very good fabric; obviously the fabric will be in contact with everything you'll touch: any time you'll sit and any time your fabric wrinkles on a chair you'll be happy that you have chosen a quality fabric. Only a good fabric will make go the wrinkle away in few days on clothes hanger (of course, it won't be the case for linen and cotton, but that makes their charm).
Detail not to forget is the drop. You have to remind that each fabric has a different drop and drape on both trousers and jacket. You can easily imagine that a tweed jacket would be more rigid than a jacket in cotton or cashmere.
Once these fundamental points have been clarified, we are ready to go through a review of the most known fabrics and, often, most available fabrics in a tailor shop.
Synthetic fabrics
The only advantage which synthetic fabrics present is given by their low production costs, so their impact on the final price is very
light.
Often RTW international brands use these kinds of fabrics for their products. They also mix these fibres with wool and cotton for their most expensive clothes.
On the other side, they also present many disadvantages:
They are plastic derivate and they don't make breath your body, which could bring you to sweat excessively.
They are absolutely not warm fabrics; they won't keep the heat in winter.
They will have the tendency to get used easily especially on elbows and knees.
They don't fit well and have tendency to make ungraceful pleats, especially on sleeves and on the back, this is a sign which will show you immediately that it is a low product suit.
I strongly discourage the purchase of a suit produced by these fibres even if it will be offered for less than 100€; it won't be a good deal!
Natural fabrics
Rather favour natural fabrics. These kinds of fabrics are realised with fibres derivate from animal or vegetal origins.
Wool
Fibre of animal origin, wool is without any doubt the most used to produce suit fabrics. Even if it remains very classic, its quality cannot be discussed.
You don't have to think that it's sufficient to buy a wool fabric to have a great product, because not all wools present the same qualities. Wool, which is used by best Italian and English fabric makers, passes through a very rigorous selection process.
Wool is classified according to many criteria: animal origin (race and age), wool's elastic resistance, colour (The most the wool is white the most it will be adapted to be coloured to more clear nuances) and the average fibre diameter.
Once all fibres have been selected and classified by experts just after the fleece, they are assembly in homogenous chaff before going through a second analysis and other treatments, which allow obtaining wool threads ready for the realisation of a fabric.
Concerning wool, it's important to pay attention to one particular trick used by marketing department of many brands to sell their products more expensive, I'm talking about the "Supers" classification.
This classification established in the 60's has been invented to classify wool according to the diameter finesse of fibres, which is measured in microns (millionth of meter, 1000 microns = 1 millimetre).
Woolmark (World Textile Wool Organisation) has classified supers following a scale going from Super 80's (19,75 microns) to Super 250's (11,25 microns).
To compare to something familiar, a human hair measure between 50 and 60 microns.
You well understand that this classification has nothing to do with the quality of the product you're buying. A salesman would try to make you believe that a fabric Super 150's (16,25 microns) will surely be better than a Super 120's one (17,75 microns). Absolutely false!
The only thing that we could say for sure is that a Super 150's fibre will be more delicate, rare, expensive, and not to be forgotten, more difficult to be manipulated.
Beware of advertisements and salesmen who will first offer their higher grade of supers. Pay attention to the name of the fabric makers (some of them are very famous and certainly known by the most among you: Vitale Barberis Canonico, Loro Piana, Ermenegildo Zegna, Cerruti and the English Holland and Sherry) and the kind of fabric are you going to choose.
In a future article I will help you to understand how to know which degrees of supers to choose.
Worsted Wool
The Worsted Wool is considered as a "four season fabric" because it can be worn both in winter (of course with a beautiful coat) and in spring. I discourage however, to wear it in summer because it always remains wool, at least that is a fabric, which has very large armour letting air pass through.
This way to work on wool allows eliminating all impurities during the combing phase to obtain a fabric dry, clean and very thin.
Wool physical features joined to thermic proprieties of this kind of fabric make it a good choice during most of the year, in places where exist a tempered climate (neither too hot nor too cold, like in France).
I can easily affirm that the 90% of you already own a suit or a jacket realised in that kind of fabric, because it is the most used in RTW and MTM shops.
Winter Fabrics – Carded wool
Differently from the worsted wool, carded wool keeps all original irregular threads of wool, indeed they are called impurities, which give a rougher look to the wool. These impurities allow fabric to keep heat of our body and therefore to be used during the coldest period of the year.
Of course, even if wool's thermic proprieties are well known by everybody, I strongly recommend to wear a beautiful coat to complete your outfit.
Carded wool is used to realise tweed, chevron and flannel.
Tweed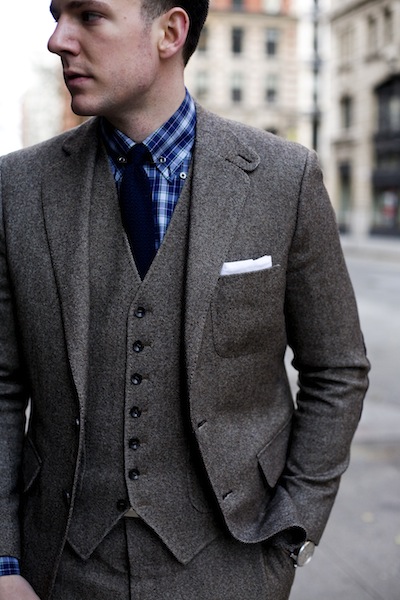 Tweed is a fabric characterised by a rough and thick texture, it is a highly demand fabric for its impermeability and its resistance. It's for this reason that is a privileged fabric for the production of hunting jacket and winter coat.
There are different kinds of tweed, among them we remember: Donegal (with its white threads, which are well visible in its armour), Shepherd's Check and Belford (fabric very thick for hunting jackets).
Chevron
It's the perfect alternative to tweed, because it's essentially weaved in the same way, except for its very charactering chevron pattern.
It's also a good fabric for people with a small stature, because the fabric consistence gives more structure and shapes to the silhouette.
Flannel
This fabric is very particular to wear because it's very fluffy and soft to touch but it's also pretty heavy. It is the reason why it can become quickly uncomfortable after a long day wearing it.
Little tip: take the time to build a basic wardrobe before starting the flannel adventure because it demands a certain experience to wear it for the right occasion.
Cashmere
Luxury fabric par excellence, it's very soft and very expensive.
It demands an attentive care both when it is worn and in the closet.
Given its softness and its price, it is often used to produce mixed fabrics. Indeed, Cashmere can be added up to 5-15% to wool to offer it softness.
Pay attention, some brands sell coats and jackets made up of "cashmere" but only a little percentage of this excellent fabric is part of the garment.
Summer fabric
One of the best summer fabric is rustic canvas. This fabric can be realised with every kind of fibre (even wool) thanks to its pretty large armour, which gives a honeycomb aspect, allowing the body to breath and support summer heat.
Cotton
Vegetal fibre, cotton is ideal in all its declinations (gabardine, seersucker and velvet) for a mid-season usage.
For their thinness and their breathable proprieties, gabardine and seersucker will be more adapted to the hottest mid-seasons (May-July); favour velvet when it's colder (September-October).
Cotton is a very thin fabric, which has the disadvantage to easily wrinkle (without the linen charm) and it doesn't have wool elasticity (even if some fabric makers add a small percentage of lycra to fill this lack of elasticity) that could damage the fabric at tension points (like knees and elbows).
Cotton will always be a very good option for sport jacket to be worn with "spezzato" trousers.
Linen
Vegetal origin like the cotton, linen is THE summer fabric par excellence. That is why it is used in very hot and humid Countries. Indeed, linen allows the body to well breath in this climate conditions, giving the fact it well evacuates humidity and dries rapidly.
Some people think that it is a very difficult fabric because it wrinkles a lot, but that makes its charm. Moreover, wrinkles allow the fabric not to stick to your skin.
Silk
Silk is a fabric having unique ability to adapt to the body and very good thermic depending on its thickness. It is also a fabric used to be mixed to cotton and wool to add fluidity and softness.
Little tip: giving its texture favour it especially for your night outfits.
Mohair
Wool fibre from Angora sheep hairs, it's comparable to silk for its fluidity, its lightness and brightness. It's also known for its very good resistance and durability, it's ideal to realise smoking and diner jackets.
So, what's a good quality fabric?
A quality fabric has been produced from vegetal or animal fibres after a straight and rigorous selection, it has weaved by known, experienced and innovative fabric makers, who respect, at the same time, traditional know-how. A fabric, which contains a very small percentage of synthetic fibres only for specific and useful purposes and which is able to keep colour, proprieties and beauty over time (of course, if the owner takes care of his garment during and after each use).
To end this article, let's make a brief summary of what you should consider next time you'll be buying a new suit:
Choose exclusively a suit realised in natural fibre (you can accept however a small percentage of synthetic fibre if it's justified by a specific utility, like the lycra mixed to cotton or elastane to improve elasticity).
Take well into account that a wool Super 150's fabric won't be necessarily of better quality than a wool Super 120's fabric. It will be surely more expensive, so evaluate the fabric maker and the kind of fabric.
Choose the kind of fabric depending on where you live, on which season you're going to wear your suit and on which suits you already own (favour "four seasons suits" and classic colours and only after that, have fun choosing  more coloured fabrics and more dandy patterns).